Windows subject to the Settlement
This Settlement involves vinyl-clad wood-framed windows manufactured by MW Manufacturers, Inc. ("MW") from January 1, 1987 through May 23, 2014. The brand names of the windows that are the subject of the Settlement are: "V-Wood," "Freedom" (a/k/a "Freedom Clad" or "MW Clad"), "Freedom 600" (a/k/a "Builder Series 600," or "Series 600"), "Revere" and "Freedom 800" (a/k/a "Pro Series 800" or "Series 800"). The Settlement includes all of the different types of vinyl-clad wood windows sold under the brand names mentioned above, including: double-hung, casement, awning, sliding, fixed, special shapes, picture, transom and sidelight windows. During most of the Class Period, these windows were sold under the trade name MW Manufacturers; however, some windows have been sold under the trade name Ply Gem Windows.
Set forth below are illustrations of common types of windows sold under these brand names.
| | | |
| --- | --- | --- |
| Double-Hung, exterior view | Casement, interior view | Awning, exterior view |
Set forth below is an illustration that identifies a number of parts for a window, specifically a double-hung window.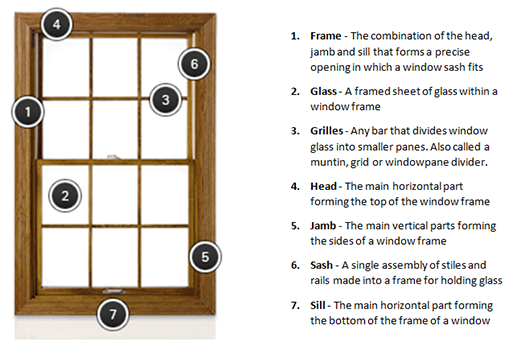 Determining whether you have an MW vinyl-clad wood framed window:
There are a number of ways to determine whether you have a MW window, including: 1) looking for a label (see Appendix A, Figure 3 to the Claim Form for an example); 2) looking for a rim spacer (see Appendix A, Figures 5a and 5b to the Claim Form for an example); and 3) looking at the lock(s) on the window(s) for a "MW" stamp (see Appendix A, Figures 4a and 4b to the Claim Form for an example) [Note: the presence of this stamp is not conclusive evidence that it is a MW window]. The Claim Form has detailed information about how you can determine whether your vinyl-clad wood-framed window was manufactured by MW. (Note: not all MW Vinyl-Clad Windows have a label, lock stamp or a rim spacer.)